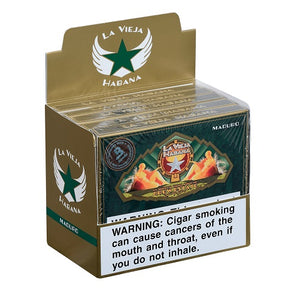 Drew Estate - La Vieja Habana Brazilian Maduro - 4 x 32 Petit (Tin of 10)
Handmade from the quality leaf left over from the manufacture of Drew Estate's premium cigar brands, the La Vieja Habana is an exceptional smoking value. This tripa mezclado cigar consistently delivers a great flavor with an excellent draw and burn.
LA VIEJA HABANA BRAZILIAN MADURO
A toothy, oily and dark Brazilian wrapper covers filler tobaccos from Estelí and Jalapa Valley in Nicaragua. It is medium bodied with rich flavors and lots of character with hints of chocolate and coffee. The Brazilian maduro wrapper leaves you with a slightly sweet aftertaste that would have you craving for more. Great after a hearty steak with your favorite scotch.