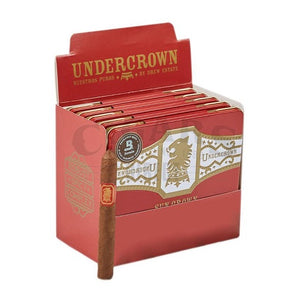 Drew Estate - Under Crown Sungrown - 4 x 32 Petit (Tin of 10)
Undercrown Shade marks the first release blended by Drew Estate Master Blender Willy Herrera not to fall under the Herrera Estelí brand family. Herrera's continued involvement in blending and brand development within Drew Estate is evident with this new blend, as Herrera worked extensively with the Undercrown roller team who blended the original Undercrown line to develop this new Connecticut blend.
Featuring an Ecuadorian Connecticut wrapper, Sumatran binder, as well as Dominican Criollo 98 and Nicaraguan Criollo & Corojo fillers, the new "Undercrown Shade" line will be presented in six vitolas, mirroring the San Andres-wrapped Undercrown core line that you've come to love.
The final blend is medium-bodied, lush & ultra-smooth, flavors that only a shade grown wrapper can deliver. And so it is with great bravado that we share "Undercrown Shade", and the continuing story from our factory floor.