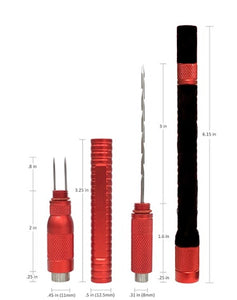 4 in 1 Cigar Tool - Black and Red
The perfect solution for overfilled, tight, or plugged cigars.
Corrects cigars that are difficult to "draw from"
Press the bladed needle into the cigar and remove
Extracts small bits of tightly packed tobacco to loosen the draw.
Built in twin Nubber holds short cigars and prevents "hot fingers" so one can enjoy their smoke down to the nub.
Twist to Expose/Retract an 8mm punch cutter for small and medium ring gauge cigars and an 11mm punch for large 60+ ring gauge cigars.
Creates perfect airflow and perfect draw.
Compact, durable quality metal construction.
Great on the go.
Easily stow in a golf bag, car, pocket, etc. Great accessory for home or travel.
Set in a Handsome gift box.